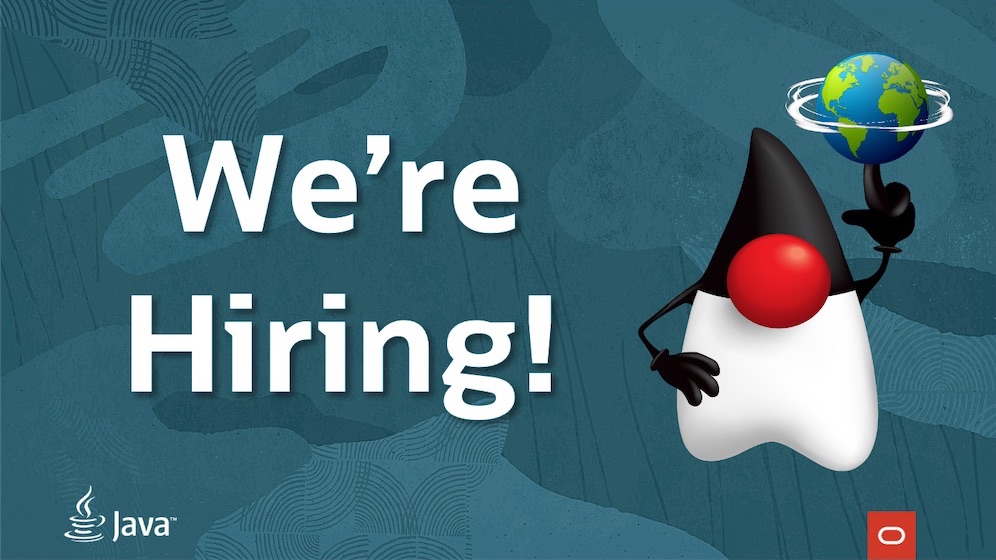 The Java Developer Relations Team's key mission is to engage the developer community to build greater Java awareness and collaboration with Oracle's Java Platform Group.
The team is looking for a technical developer advocate. You will be working side by side with many of the brightest engineers and architects in the world of Java to help promote the latest Java features, success of the release cadence, innovation projects like Project Loom, Panama, Amber, and Valhalla, while weaving all of these things together into "The Story of Modern Java".
Responsibilities
Present and promote modern Java to small and large audiences across numerous channels
Participate in conferences both virtual and in-person
Contribute in producing engaging technical content (tutorials, articles, code samples & demos, videos, hands-on labs, etc.)
Engage with the Java community to better understand their pain-points and opportunities that Java can uniquely address
Support the operations and logistics of the wide range of developer outreach programs
Help monitor, measure and evaluate program metrics to offer suggested changes and adjustments to improve KPIs
Communicate and collaborate within a distributed Java development organization
Skills & Experience
Being a developer at heart, 10+ years of programming experience whether as a developer, developer advocate, teacher, or similar role
A visible online presence of presenting deeply technical topics
Experience building out technical content
Excellent communication skills
Ability to build a trusting relationship with the Java Ecosystem by honestly and authentically representing Oracle's Java strategy, while also showing care, empathy and inclusion
Preferable

Good proficiency in Java
Ability to articulate and advocate the vision and future direction of Oracle's Java Platform technology portfolio
Strategic thinker who can take initiative and think outside the box.
Visit