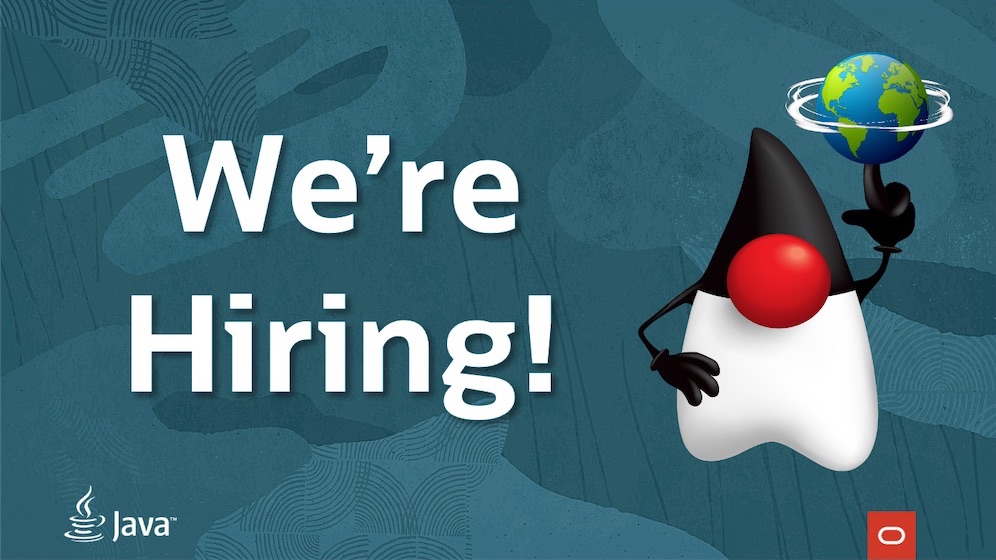 About the Java Platform Group
The Java Platform Group (JPG) at Oracle is the team primarily responsible for building and advancing the Java platform, developing the Java language, and stewarding the OpenJDK ecosystem forward. For over 25 years, JPG has ensured that Java remains relevant in the technology universe by ensuring new features address the problems and opportunities of tomorrow. With over 60 billion active JVMs globally, much of the world relies on the work of this team -- Java innovation starts here.
JPG is looking for experienced, purpose-focused, and highly motivated collaborators. This is a unique opportunity to join a world-class development team of creators and inventors to design and engineer cutting-edge capabilities for the Java platform. These capabilities help address building the next generation of rich, scalable, and secure enterprise applications for a variety of targeted deployment environments from the desktop to the cloud.
While we act with the speed and attitude of a start-up, we operate with the scale and customer-focus expected as the leading enterprise software company in the world. We strive for equity, inclusion, and respect for all, ensuring our unique individuality is harmonious in a team environment. You will be part of a team of uniquely smart, motivated, and diverse people who are offered the autonomy and support to do their best work, while also being given the opportunity to learn.
Our customers run their businesses on Java...our mission is to provide them the best Java platform and language experience to drive their enterprises forward.
Current Openings
The Java Platform Group is a globally distributed team with open positions that let you flexibly work in almost any part of the world, as well as in specific locations such as the United States (Bay Area & Boston Area), the United Kingdom, Ireland, Czech Republic, Sweden, Switzerland, India, Singapore, etc.
There are currently no open positions. Please check this space regularly.